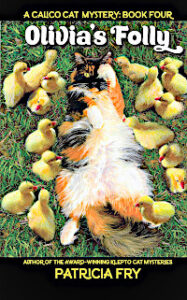 Olivia helps unravel a ghoulish mystery. Parker takes Olivia, her spunky calico, to visit family at a guest ranch in Colorado. Olivia makes herself quite at home among the critters. She even learns how to ride a horse. But their vacation turns ghastly when dead bodies show up in the most unexpected places, then disappear seemingly without a trace. Olivia is on the job, though, pawing up vital clues that could eventually lead them to the macabre truth. Along the way, Olivia is catnapped in a cruel plot, she rescues vulnerable ducklings, and she teaches a few lessons in cat appreciation.

Click here to purchase paperback version of this book now from MatilijaPress.com. These paperbacks are signed by Patricia and "signed" with Olivia's paw print.

Click here to purchase paperback or ebook version of this book from Amazon now.