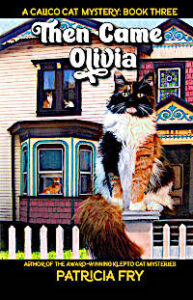 Olivia claws and charms her way out of some sticky situations.The search is on for Detective Jud's missing daughter, and Olivia doesn't miss a beat as she scratches up important clues. She even does a little undercover work, but not because she wants to. When Parker and the detective meet up with a sister and brother in search of their missing mother, they join forces in a daring rescue attempt. And the spunky calico does her part to end the charade and free those who were under a wicked spell.

Click here to purchase paperback version of this book now from MatilijaPress.com. These paperbacks are signed by Patricia and "signed" with Olivia's paw print.

Click here to purchase paperback or ebook version of this book from Amazon now.