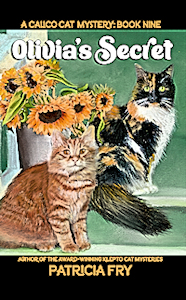 Olivia shares the secrets that crack this unusual case. Parker and Olivia arrive home from a road trip to find a mystery building in their own backyard. Parker's cousin, Pamela, seems to be missing, only there's evidence that she's in the area. Parker's concerned that her cousin has run away from her responsibilities again, until a coworker reveals that Pamela may be a witness to a crime. New question, is Pamela hiding out or has she been kidnapped? Unable to determine whether she should be worried about Pamela or angry with her, Parker calls on her friend Jag and her spunky neighbor, Nonnie, to help sort through the possibilities and clues. This leads them to get involved in a cat rescue situation, which delights Olivia, and it's the calico's quick thinking that ultimately puts a halt to the terrorism.

This book is available now at Amazon in Kindle or Paperback format.
This book is available as a paperback in the Matilija Press store.