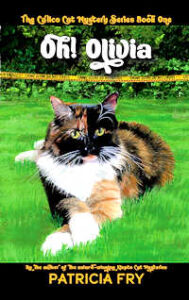 Olivia proves she's not just a pretty face. Parker Campbell, an investigative reporter, and her calico cat, Olivia, have been summoned to help save a long-standing cat colony site from the grips of eager developers. They arrive on scene to discover that the property has become enshrouded in a most unsettling mystery. The feral cats are digging up personal items belonging to missing persons who vanished years earlier. Was this the site of a mass murder, a cult ritual gone wrong, or an unexplained phenomenon?
Parker teams up with Detective Judson Caldwell, who has taken a personal leave to secretly investigate the mystery, and soon learns what drives his obsession with this case.Olivia, the sweet and sassy calico, struts her stuff in this story. She locates a lost toddler and ends up getting herself arrested. She isn't about to take this insult lying down, however. She escapes from custody and trashes the police station. Olivia alerts Parker to trouble when they visit her aunt's home and find that the woman has detained a burglar in a most unusual way. Olivia also finds major clues in the convoluted cat colony mystery, one that promises a glimmer of hope for a long-grieving parent.

Click here to purchase paperback version of this book now from MatilijaPress.com. These paperbacks are signed by Patricia and "signed" with Olivia's paw print.

Click here to purchase paperback or ebook version of this book from Amazon now.